Perrin & Rowe tapware and accessories are made from premium quality brass, hand polished and then electroplated in their range of finishes. While Perrin & Rowe coatings have a greater thickness and higher quality than usual, please follow these cleaning and care instructions in order to maintain the beauty of the product you have selected and to preserve your warranty. has managed to achieve and sustain a level of both growth and innovation that only few other British companies can claim. These multiple award winning products are now exported to over 20 different countries including Russia, Spain, Netherlands, France, Both North and South America, the Far East and Australasia; these stunning products are found in the most breathtaking and luxurious hotels, spas, resorts and private residences In the world.
Ideal Care for all Fittings
Dry with a soft cloth after use

Clean regularly with warm water

Clean regularly with warm water or a mild pH-neutral liquid soap and then polish with a clean, soft, lint-free cloth. A Microfibre cloth is ideal as it is gentle but effective for cleaning without scratching and needs only to be dampened with water to clean the product. The only exception is the Gold finish that requires a chamois leather cloth – read on for more information.

Residue left by personal hygiene

Residue left by personal hygiene products such as soap, toothpaste, shampoo and shower gel can cause blemishes. Always completely rinse these off the fittings with clean water immediately after use.

Avoid getting household bleach on your fittings

Avoid getting household bleach or cleaners on to your fittings when using on surrounding surfaces. Any splashes should be immediately rinsed with clean water and dried and should not be allowed to remain on the metal finishes. To avoid this happening, cover the fixture with a cloth or towel when cleaning tiles, mirrors, countertops etc.

Remove limescale with a 50/50 solution

To remove limescale we advise a 50/50 solution of lemon juice and water. To avoid it running away, apply to some cotton wool and wrap around the area. Leave on for no more than an hour then remove cotton wool and rinse and dry fully with a lint free cloth. For heavy scaling, the process can be repeated as long as the area is rinsed off in-between treatments to avoid a build-up of the citric acid.
No harsh cleaning agents

Under no circumstances should harsh cleaning agents containing acidic, caustic or abrasive components such as bleach, alcohol or vinegar based substances be used.

No abrasive cloths

Do not use abrasive cloths, scouring pads, scrub sponges, steel wool etc. as they may damage the surface.

Avoid dye and 'patterning'

To avoid dye and 'patterning' transfer from wet cloths, avoid hanging them over the spout of the tap. Porous surfaces such as nickel and pewter may be affected by chemicals in or on the cloth.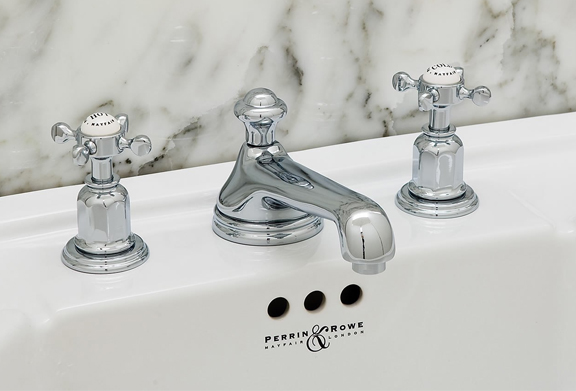 Stamp of Authenticity
The expert craftsmen that assemble and individually test our products stamp their name in the space below once they are completely satisfied with the quality of the product enclosed. Keep hold of this information sheet for the details on care and maintenance, and this important stamp of authenticity.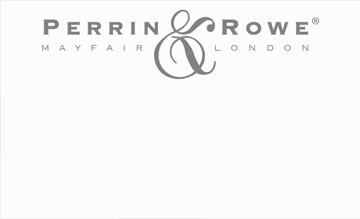 Finishes
All Perrin & Rowe Brassware can be customised to fit your own personal style and taste with a range of eight high quality finishes designed to perfectly compliment a wide range of kitchen designs, appliances, cabinetry and fittings. A number of finishes are described as 'living finishes' which means they develop a unique colouring over time as they react with their environments
Perrin & Rowe Standard Finishes
Chrome is the hardest and most durable finish in situations with daily cleaning however it is still prudent to avoid commercial cleaning products which may contain corrosive chemicals.
Perrin & Rowe Special Finishes
Polished Brass, Satin Brass, and Aged Brass finishes are known as "living finishes" and will develop an individual patina over time which, for some, is the appeal of choosing a brass finish. Follow the same guidelines on page one for day to day care of all raw brass finish and additionally to restore Polished and Satin Brass.

Satin Brass (brushed Brass) – use a Pewter Pad available from our customer services department on 01708 526 361 or alternatively, your local distributor.
Polished Brass - to restore the original sheen, occasionally give it a very light polish with Brasso.

Gold plated products contain real 24 Carat Gold in the coating and being the softest finish, should be treated as you would treat any piece of fine jewellery. They should only be cleaned with warm water and a non-abrasive liquid soap and dried with a chamois leather cloth. Gold plating can be scratched, become discoloured from perfumes contained in soaps and lotions over time and may wear on the handle section.
English Bronze finish is another delicate, soft finish that should be looked after with care. This finish is created using a high quality, lacquer coating and as such care should be taken to avoid scratching the surface. Ensure the guidelines above are followed, additionally do not use excessive force drying with a cloth.
Kitchen & Bathroom - Discover
Manufactured exclusively in Perrin & Rowe's British facilities and assembled by hand, the Kitchen and Bathroom collections are available a wide choice of designs and finishes to suit any style of home.
Kitchen Collection
The Perrin & Rowe Kitchen Collection offers a multitude of design and styling options. Choose from the clean, minimal, contemporary range; timeless forms of the Traditional Collection for rustic style with the Country Collection in a choice of finishes. Enhance your kitchen with Instant Hot or Filtration technology and customise with spout, handle and fitting options. Complete the look with a range of accessories including rinses, soap dispensers, pot fillers and fireclay sinks.
Bathroom Collection
The Perrin & Rowe Bathroom Collection is a portfolio of the finest Traditional and Contemporary bath, basin and bidet taps, showers, chinaware and accessories available today. A preferred brand of discerning architects and designers, Perrin & Rowe Bathroom brassware has earned specification in some of the world's most luxurious hotels, resorts, spas and private residences including Sandy Lane, Barbados, the Savoy Group, London, Celtic Manor, Wales and Huka Lodge, New Zealand.
Image Gallery